27 Main Street
Punta Gorda, Belize
Tel: (501) 722 2591 or 722 2338
Cell: (501) 614 1302
Fax: (501) 722 2598
e-mail: thadhaniraju@hotmail.com
Whether you live in Belize or just travel through...
If you are looking for something brand new...
You'll be sure to find it at
RAJU !!
And what we do not have right there for you, it will be next door, at
Disha's Discount Center
We have the largest selection of clothing and shoes in all of Punta Gorda - for adults and children, for any occasion.
Everything for your home!
Refrigerators, Stoves, Washers,
Beds and Mattresses, Carpets, TVs, Stereos, Video Recorder, DVD Player and even more.

All in the
Best Quality
and for the
Best Price!
All Kitchen Accessories
Silverware, Glasses, Pots & Pans, Plastic containers in all sizes, Crock Pots, Pitcher and everything else.
Everything for Your Bathroom
From Cosmetic Products to Bathroom Floor Rugs.

Also:
Child Seats
Baby Strollers,
Baby Beds & Accessories and Toys

CD's, DVD's, Cassette Tapes

Bicycles for the whole Family
Disha's Discount Center
widens our selection next door and
offers additionally
School Supplies & Books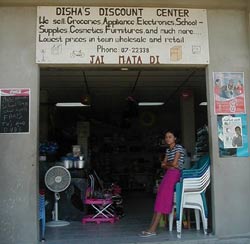 Come see our great selection!
Lowest Prices in Town!